Are you one of the people photographed in this Doncaster village in the 1990s and 2000s?
Here's a great collection of photos showing people who lived in a Doncaster village two decades ago – can you spot anyone that you know?
Monday, 24th May 2021, 3:49 pm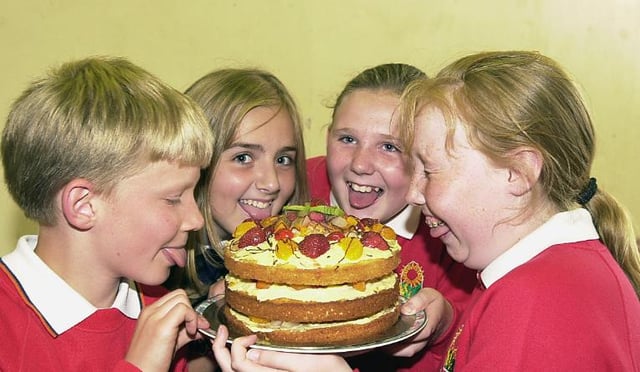 Were you one of the pupils who took part in a baking competition in the early 2000s?
Scawthorpe is a village in Doncaster around four miles from the town centre.
Click through this article to see photos of people who lived in the village in the 1990s and 2000s.
Rene Moore, aged five from Scawthorpe in 1997.
Follow us on Instagram here to see more photos of Doncaster.
In these confusing and worrying times, local journalism is more vital than ever. Thanks to everyone who helps us ask the questions that matter by taking out a subscription or buying a paper. We stand together. Liam Hoden, editor.
The Scawthorpe Football Club photographed in 1997.
12 year old Katie Brookes from Scawthorpe in 1997.
Three year old Mathew Vickers enjoying an ice lolly in 1997.
Fay Walker, Charlene Chambers, John Wilsher, Robert Varty all aged 10. Pupils at Scawthorpe school Don Valley in 1997.
Library assistant Lyn Hopson at the Scawthorpe Library back in 1999.
Two year old Sarah Louise Hoyland from Scawthorpe at a teddy bear picnic held at Sandall Park in 1997.
The Woodlands and District Midweek Pool League team used to meet at the Scawthorpe Club weekly, taken 2000.
Beloved teacher Margaret Baker retired from Scawthorpe school Sunnyfields in 2000.
Kendal King from Scawthorpe aged 12 was selected to play for the England Rounders team. 2000.
Mark and Jason Madin with Kerrie Wheat who lived in Scawthorpe in 2000.
11 year old Nicola Devine from Scawthorpe pictured with friends Amy Ryanss and Charlotte Levitt. 1999.
Scawthorpe Brownie group photographed in 1998 by the Methodist church.
The launch of a history leaflet all about Scawthorpe was in 1998. Historian Carol Hill and Cllr Margaret Robinson.
Nine year old Jamie Banks from Scawthorpe having fun at Conisbrough Castle in 1998.
Sunnyfield Primary School celebrating Book Week. Year one class in 2002.
69 year old runner John Toplis from Scawthorpe photographed with a medal in 2001.
Sunnyfield's pupils took part in a baking competition in 2001.
Paul Smith from Scawthorpe with a pint of beer in 2001.
A youth celebration was held at the Methodist Church in Scawthorpe in 2001. Natalie Curry, Rachel Lee, Charlene Whittaker, Peter Johnson, Jordan Hill.