Plunge in Doncaster Covid cases in over 60s revealed as vaccines kick in
Doncaster's public health boss says a major plunge is coronavirus cases among over 60s is down to people taking up the Covid 19 vaccine.
Saturday, 13th March 2021, 8:09 am
The level for over 60s has now dropped to 50 per 100,000, which is described half what it was, while the overall rate in the borough is now under 100 per 100,000, standing at 98.8.
In his weekly message, Doncaster director of public health Dr Rupert Suckling said: "This week we have reached some significant milestones in our journey to starting to learn how to live with Covid.
"Some great news is that Doncaster now has rates of infection under 100 per 100,000 as of February 27 to March 5 (98.8/100,000).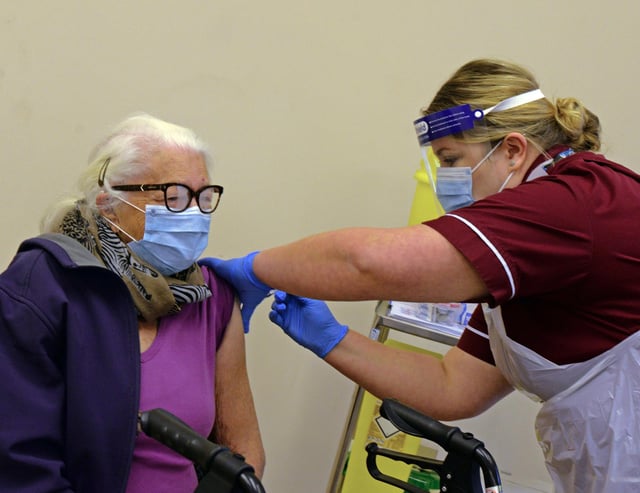 Ann Duggan, is the first to recieve the Covid-19 Vaccination in Doncaster. Picture: NDFP-15-12-20-CovidVaccine 4-NMSY
"This is the first time we have had rates this low since September last year so is great news, and really is testament to the sacrifices you all continue to make.
"Other positive news is that our rate in the over 60s has halved to below 50/100,000 and this is largely due to the impact of the vaccination programme. The vaccine has now been administered to over 100,000 people in Doncaster as of yesterday so the programme is doing well here with almost a third of the population receiving their first Covid jab.
"Although these figures are something to be proud and excited about, we are far from out of the woods and really need to continue with everything we are doing to get the rates down even further. So please do stay at home where possible and get your vaccination when you are invited to do so.
He said another significant milestone this week was the wider opening of schools, and 96 per cent of primary school pupils had returned and 73 per cent of secondary school pupils have so far returned through a staggered start. The feedback from secondary schools has been how impressive the roll out of the testing programme for pupils has been. Both parents and pupils had been very supportive of this programme.
He added he knew it was hard that Mother's Day this year still needed to be spent apart, but asked people to follow the rules on Mothers Day to avoid slipping back after making so much progress the last few weeks.
In these confusing and worrying times, local journalism is more vital than ever. Thanks to everyone who helps us ask the questions that matter by taking out a subscription or buying a paper. We stand together. Nancy Fielder, editor.