Find out more about CBD gummies to try in the UK
CBD gummies are a great way to get your daily dose of CBD. These are the best of the tasty sweets that are available in the UK.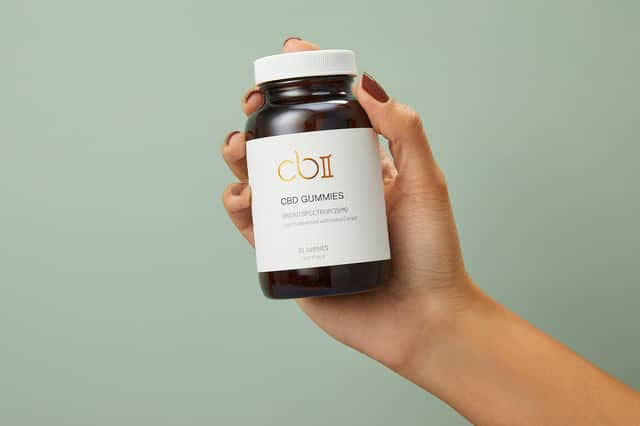 CBD is big news in the wellness world – want to know more?
The last two years have shone a spotlight on mental health like few times before. With so many twists and turns, it's no wonder Brits have been trying to cure the ailments that have arisen as a result.
CBD - also known as cannabidiol - comes from the hemp plant. And the anecdotal evidence from devotees claims CBD is helping cure ailments including anxiety, insomnia, chronic pain and depression.
If you're a regular shopper for food supplements, it's likely you've noticed the CBD trend emerging
Brits are consuming CBD in lots of different ways: think CBD capsules, oils, vapes, and even chocolate. But with their convenient, pre-measured dosage, delicious taste, and portability, edible gummies are winning more and more fans.
The FSA recommends consuming no more than 70mg of CBD a day; of course, it's best to check with your medical professional before starting out.
Before you buy: what to look for in a CBD gummy
When shopping for top-quality CBD edibles, it pays to keep a few things in mind before parting with your cash.
Broad spectrum CBD vs isolate If you buy a broad-spectrum product, it means there will be other cannabinoids from the hemp plant present in your dose. These can harmonise with CBD to create a stronger effect, called the 'entourage effect'. However, some people prefer to take pure CBD, which is known as CBD isolate. This means there will be no other cannabinoids in your dose.
Dose Check how much CBD you're actually getting in each gummy. Generally, doses vary from 5mg to 50mg per sweet, with the FSA recommending you take no more than 70mg a day. The best sweet for you will depend on how you want to build your dose or distribute your CBD throughout the day.
Lab results CBD products should be independently tested before hitting the market: this ensures the potency of the CBD and accompanying ingredients, and the consistency of the dose gummy to gummy. The best brands will display results on their website.
Ingredients What are you swallowing alongside your CBD? If you have dietary concerns or are worried about preservatives or artificial add-ons, it pays to examine the ingredient list closely.
THC According to UK law, there should be no more than 0.2 per cent THC in any given dose - any product that contains more than this is illegal in the UK.
High-quality CBD gummies for 2022: a buyer's guide
CBII's delicious, sugar-dusted fruit morsels easily win the top spot for top-notch CBD gummy. Weighing up dosage, price, taste, CBD quality, and manufacturing process, these gummies can offer the best CBD edible experience available in the UK.
With 25mg of broad-spectrum CBD per gummy, each sweet offers a decent dose. As noted above, 'broad spectrum' means that the dose comes with accompanying cannabinoids from the hemp plant - like CBG and CBN - to complement CBD's wide-ranging effects.
CBII's CBD is sourced from hemp grown in Oregon - the most strictly regulated marketing in the US. From there, the gummies go through a five-step testing process all up, ensuring potency, consistency, and quality from dose to dose. You can find the third-party lab test results on CBII's website.
Each jar contains a mix of four flavours across 30 sweets, with the watermelon, tangerine, raspberry and lemon confections calling upon colours from natural ingredients such as carrot and turmeric to lend indulgent jewel tones. The soft, chewy texture is reminiscent of sweet shop treats, while a coating of cane sugar lends a pleasant crunch. You won't experience the bitter, botanic aftertaste that many hemp products are known for.
2. Zen Bears CBD Gummies, £39.95 for 30 gummies, 20mg CBD per gummy
If you're a fan of a traditional gummy bear, you'll enjoy Zen Bears' offering. At 20mg of CBD per gummy, there isn't as much value for money. However, this doesn't stop fans praising Zen Bears for the delicious taste and soft jelly texture, which is almost indistinguishable from a regular supermarket version.
Zen Bears calls upon organically grown hemp and a range of naturally-sourced flavours to create its bears. You'll find unique batch numbers on every jar, so it's easy to search Zen Bears' website for the results that apply specifically to your purchase.
3. CBDfx Turmeric and Spirulina CBD Gummies, £50 for 60 gummies, 25mg CBD per gummy
If you're less about 'fun' gummies and more about scooping up as many health benefits as possible, CBDfx's sweets could be a good option.
These gummies also come stacked with turmeric and spirulina – both known for their anti-inflammatory properties. While the plain brown disc may not be as much of a joy to administer as some of the other options, they still come stacked with 25mg of broad-spectrum CBD per sweet.
Lab results are available on CBDfx's website, guaranteeing consistency and quality from sweet to sweet.
4. Cannaray CBD Gummies, £18 for 30 gummies, 10mg CBD per gummy
At just 10mg per gummy, these citrusy discs could be a solid option for CBD beginners, or those who simply prefer to spread more frequent, smaller doses throughout the day.
With a juicy orange taste, the gummies are vegan, and come devoid of sulphates or GMOs. Unlike many other options on the list, they use CBD isolate instead of broad-spectrum CBD. While this is a positive for people who are looking for a pure dose of CBD, it means users won't experience the benefits of accompanying cannabinoids.
The sweets use natural colouring from concentrated pepper and carrot to achieve a deep orange hue, and are triple lab tested to assure quality, with the lab reports available on the Cannaray website.
5. Koi Hemp Extract CBD Gummies, £9.99 for 20 gummies, 10mg CBD per gummy
With three flavour options (lime, tangerine, and acai pomegranate), and a pleasantly chewy texture, Koi is a good option for those who want a lower broad-spectrum dosage.
With 10mg of broad-spectrum CBD per sweet, Koi prides itself on its production process, rolling the extract into the gummies three times to ensure even distribution. A certificate of analysis is available on its website, so you can see a full breakdown of ingredients and potency.
Delivered in a lightweight, resealable bag, they're a convenient option to slip into a backpack or handbag.
6. CBD Guru CBD Cola Bottles, £29.99 for 30 gummies, 25mg CBD per gummy
If cola bottles top your list of go-to sweets, we have good news: complete with yellow-brown hues, a sugar coating, the bottle shape and the distinctive tang, CBD Guru's cola bottles could pass for the real thing.
The key difference? These ones come stacked with 25mg of broad-spectrum CBD. It pays to note that unlike many CBD gummies, CBD Guru's contain beef gelatin, meaning they're not vegan or vegetarian-friendly.
7. Endoca CBD Chewing Gum, £6.16 for 10 pieces, 10mg CBD per piece
Want an easily administered dosage, but you're not a huge fan of sweets? Endoca's chewing gum could be the perfect alternative.
At 10mg of CBD per stick, the volume of CBD isn't the highest. However, because it's chewing gum, the CBD is taken in through the mucous membranes on the inside of the mouth instead of in the digestive tract. This means you could feel the effects of the CBD slightly quicker than with alternative products that require swallowing.
You'll notice that Endoca's gum feels slightly stickier than regular gum. That's due to the base ingredient - chicle tree - which is used instead of plastic. This means the gum is biodegradable, although the texture can take some getting used to.