Two children's birthday parties and 'Grand National' party stoked coronavirus cases in Doncaster, says public health boss
Two children's birthday parties and a 'Grand National' party stoked a wave of coronavirus cases in Doncaster, say public health experts
Friday, 23rd April 2021, 2:53 pm
Doncaster's director of public health, Dr Rupert Suckling revealed the parties have been blamed for a number of cases during a period which has seen infection rates in the borough among the highest in the country.
He said today: "I have been working closely with local test and trace and data teams this week to try and understand the reasons why our rates don't seem to dropping as quickly as our neighbours and why we still remain in the top three nationally.
"What we have seen over the past couple of weeks is a large number of cases that can be traced back to three household parties. One of them was the child's birthday... which has since resulted in one person being hospitalised.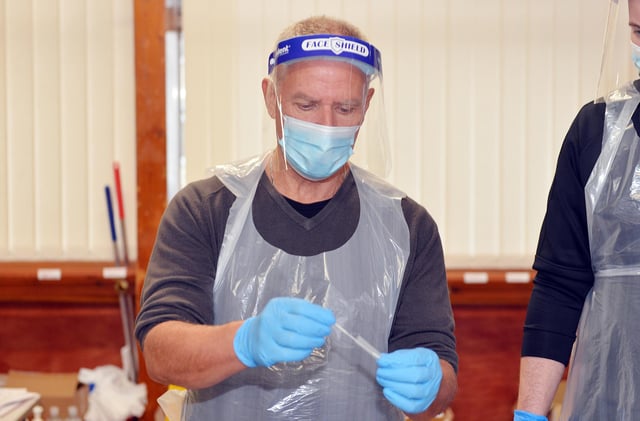 Covid test centre
"The other two were a 16th birthday party and what appears to have been a Grand National party.
"I know it is exciting to be able to finally see each other again and I know the nice weather has helped with garden parties but I would just like to remind people that we should only be meeting in groups of six (or two households) at the moment as we ease our way along the roadmap. I would ask you to refrain the urge to host larger parties until we reach the next step (hopefully on the May 17) and help us get our rates down as far we can before we get to this point."
He added Doncaster now has under 10 people in the acute hospital being directly treated for Covid, the lowest figure since early September, but the April 10 to April 16 infection rate of 78.2 per 100,000 was among the highest nationally.
Rupert Suckling, Doncaster Director of Public health. Picture: Marie Caley NDFP-26-07-19-RoundTable-MentalHealth-2
He said: "Our Doncaster businesses have done us really proud with the COVID safe measures they have put in place to make sure that people can enjoy shopping or meeting for an outdoor lunch again as safely as possible. At this point we have not seen any cases linking back to the reopenings, which shows that following the guidance does work."
In these confusing and worrying times, local journalism is more vital than ever. Thanks to everyone who helps us ask the questions that matter by taking out a subscription or buying a paper. We stand together. Liam Hoden, editor.