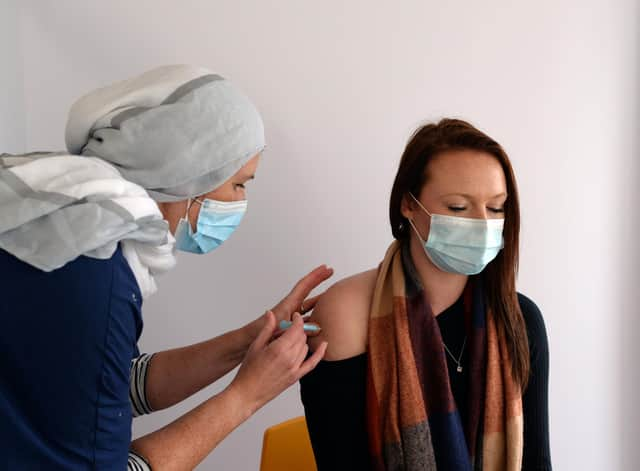 Emma Smith, Nurse Practitioner, pictured administering first dose vaccinations at Jamia Mosque pop-up clinic in Hyde Park
A meeting attended by councillors and Doncaster public sector figures heard that central areas of Doncaster are lagging behind other parts of the borough.
Some areas have 96 per cent of over 30s who have had at least one jab but in places around the town centre, this falls to as low as 48 per cent.
Figures show that 77 per cent of adults in Doncaster have had at least on dose.
Anthony Fitzgerald, chief of strategy and delivery at Doncaster NHS Clinical Commissioning Group (CCG) said there were a number of reasons why this is the case.
He said that access to jab sites, complacency of the virus, hesitancy of the vaccine and trouble with contacting people who may have not updated their details were all contributing factors.
Mr Fitzgerald added on access to sites, the borough now has the ability to become more flexible with jab sites and be able to put on a number of pop-up clinics across Doncaster closer than the four hubs dotted across the area.
"One reason is there has been an element of complacency with some from what we're hearing back and that's tended to come the lower we've gone down in the age groups," Mr Fitzgerald said.
"Part of dealing with that is continuing to really preach and advocate the importance of coming to have the vaccine.
"The second one is an element of hesitancy. These are concerns that people might have regarding what the vaccine is and what the vaccine entails or what that might mean for any sort of conditions that they have ready for that group of people.
"We really advocate the clinical conversation so we put a lot of work into trying to get in touch with people and use a clinical voice to have that conversation with them.
"The third is around access. So the ability for people to travel to any of the vaccination sites. What we're doing is we've changed our model of administering the vaccine – we still rely quite heavily on the four hubs across Doncaster but we've started to put on a lot more pop up clinics and they've been really successful.
"The fourth is the ability to get in touch with people to come and book their appointment. Not everybody's details are up to date on their GP lists which is the source of the invites in the first place.
"We've done a lot of work about trying to get in touch with put out the message if your details are up to date, so I'd say please get in touch with us and we'll update him, but also come to the walk in sessions as well and that should be a way of trying to capture those people who we initially missed."
*