Shops reopening: as it happend in pictures as non-essential retailers open their doors after 3 months of lockdown
Huge queues have formed at stores across England, as non-essential shops reopened to customers for the first time in three months
Monday, 15th June 2020, 10:54 am
Updated
Monday, 15th June 2020, 5:19 pm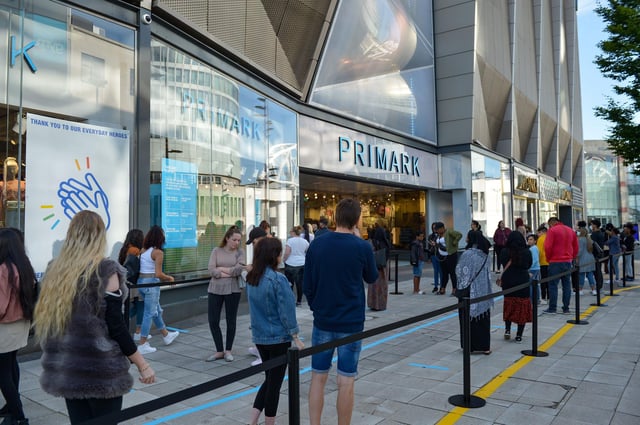 Shoppers queue at Primark in Birmingham as non-essential shops open in England
Several high street retailers and department stores, including Primark, Debenhams and John Lewis, have reopened to customers for the first time since March, with new safety measures in place.
Live updates as non-essential shops reopen in England
Last updated: Monday, 15 June, 2020, 13:46
Non-essential shops have reopened to customers in England
Huge queues have been seen at Primark stores across the UK
Shops have opened for the first time since March
Non-essential shops reopen to customers in England
Non-essential shops across England reopened for business today for the first time in almost three months.
Shoppers are being encouraged to "be sensible" in their approach, as the government begins to reopen the economy "gradually and carefully".
Long queues have already been seen at Primark stores across the country, with lines of shoppers seen waiting outside branches Birmingham, Derby, Liverpool and Nottingham.
Huge queues at Primark as it reopens 153 stores
Queues of shoppers have been seen at Primark stores across England as the retailer reopens its doors.
Shops taking a "sensible" approach
Most retailers that are reopening are adopting a "sensible" approach, with floor markings in place to maintain a two metre distance between shoppers, and encouraging hand sanitising among shoppers and staff.
Councils across the country will be making use of government funding to safeguard high streets, creating more pedestrianised space outside shops and ensuring more frequent street cleaning.
Small business minister Paul Scully insisted it is safe for people to shop, but customers will have to adapt to the new measures.
He told BBC Breakfast: "The high street is going to be a different place to what it was before, with the one-way systems, with the hand sanitisers, and with people not trying clothes on in the same way.
"But, nonetheless, it is safe to shop. I would encourage people to be sensible, work with the people in the shop but do go out and shop, and start opening our economy gradually and carefully."
Shoppers line up outside Selfridges
Long queues formed outside Selfridges in Manchester as shops reopen to customers.