Don't watch football in big groups says Doncaster health chief as Covid cases rise
Doncaster's health chief has urged football fans not to watch England's Euro 2020 games in big groups following a rise in the number of coronavirus cases in the town.
Saturday, 19th June 2021, 6:06 am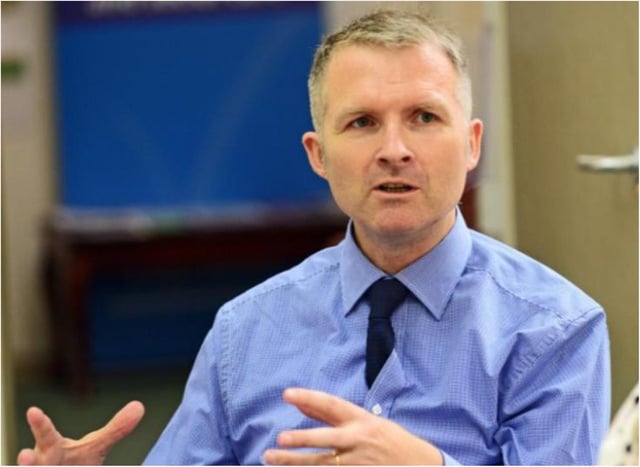 Dr Rupert Suckling.
Dr Rupert Suckling says the town's rate of infection has 'continued to rise over the last week' and while still below the regional and national average, he described the new rise as 'a concern' – and has urged people to avoid mixing in large groups to watch football.
In his weekly update on the Covid-19 situation in Doncaster he said: "Our rate of infections has continued to rise over the last week, and again we're seeing spread in the younger age groups who are yet to receive their vaccine.
"Our infection rate currently stands at 44.2 per 100,000 for the period 6 to 12 June– to put this into context we remain below the regional and national average and we have seen minimal hospitalisation over the last 7 days.
"But a rising infection rate is always a concern, so I'd ask everyone to stick to the rules in place at the moment to try and slow the spread as much as possible. Balancing the risks in what we all do will help by making safe choices.
"We're also seeing new symptoms with the new Delta variant – particularly headaches, sore throats and runny nose. With that in mind, please if you are feeling unwell at all, stay at home and don't mix with others. I'd also suggest to parents to keep their child off school if they are feeling unwell, whatever symptoms they are showing.
"I know many of us are looking forward to watching England at Euro 2020.
"Whilst it's tempting to watch the game together in big groups, please remember the guidance of the rule of six indoors or if the weather allows watch the game together at an outside venue if you can."
Discussing the Prime Minister's delay to 'Freedom Day' on June 21 he added: "No doubt the majority of people were disappointed this week when the Prime Minister announced that the majority of the steps on stage four of the government's roadmap were to be delayed for another four weeks.
"I understand this disappointment but also recognise that this provides us with some vital extra weeks to get as many people vaccinated locally as possible.
"So far our vaccine rollout has been incredibly successful – over 75% have received a first dose and over 50% a second. We are already seeing just how important a role this is playing in the fight against Coronavirus, with low hospital rates overall locally and especially in the over 60s who have received both doses. The vaccines are saving lives in Doncaster.
"But not all adults have received their vaccination yet, so I would again encourage everyone to do so as soon as they get the call. It was announced yesterday that all over 18s can now book for theirs, or attend one of the drop-in sessions being organised across the borough."