Tribute as long serving Doncaster head teacher dies aged 72
One of Doncaster's best known former head teachers has died at the age of 72.
Friday, 20th November 2020, 7:00 am
Tony Brookes was headteacher at Thorne Grammar School for 25 years, retiring when it converted to become Trinity Academy in 2002.
He went on to serve on Thorne Town Council, where he was mayor, and worked for a number of community organisations in the town, and published a book about the town's war heroes.
Martin Williams, leader of Thorne Council during Dr Brookes time as mayor, said: "He was one of the nicest men I ever met. He never had a bad word for anyone.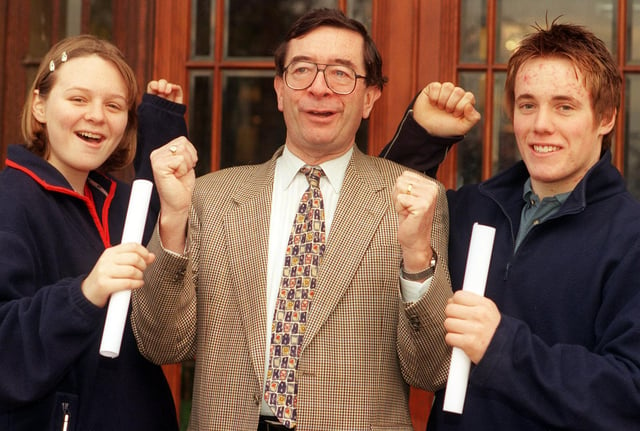 Former Thorne Grammar School head Tony Brookes.
"He was a great councillor for the community group, great mayor and with his time as headteacher too, he has left a great legacy for Thorne."
Susan Durant, current deputy mayor of Thorne, said: "He will be missed for the great contribution he made to Thorne, at the school, the church and the Royal British Legion through his work with the war memorial."
He is survived by his wife Rosemary and children, Peter and Sarah.
Pictured officially opening Sainsbury's in Thorne is Mayor of Thorne Tony Brookes with his wife Rose and store manager Mark Finnerty. Picture: Tony Saxton T6041TS
Born in Coventry. he studied chemistry at the University of Bristol to PhD level where he met Rosemary. He later studied for his PGCE at The University of Bath prior to embarking on a career in teaching, a path also followed by Rosemary.
He taught chemistry in several schools in Hull, Northamptonshire, Thorne and Leeds over a 34 year career.
During retirement he become a member of Thorne Town Council, and held the office of mayor of Thorne in 2009.
He also conducted detailed research into the men whose named are listed on the Thorne War memorial.
NDFP - Dedication of war grave. Dedication of the headstone of Corporal Tom Ernest Butler M.M. will be conducted by the Vicar of Thorne, Rev. David Green. L>R Tony Brookes, Chris Stevens
He visited several of their graves across Europe and the Far East with their stories being told in a book he compiled.
This culminated in tracing the remains of Gunner Albert Venus which were reburied in Ypres in 2015 following DNA identification.
He was also active within the Catholic Church throughout his life, recently with St Joseph's of Moorends, and served the local Catholic community as a Catenian for many years.
A private family burial will take place on Friday December 4 with a public memorial service to be arranged in the new year.
In these confusing and worrying times, local journalism is more vital than ever. Thanks to everyone who helps us ask the questions that matter by taking out a subscription or buying a paper. We stand together. Nancy Fielder, editor.