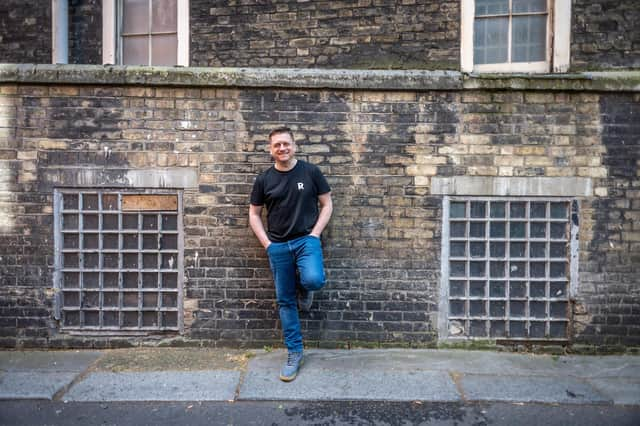 Simon Paine, from the Rebel Business School, which has just been granted a Queen's Award
The popular Rebel Business School will return to Doncaster once again from June 7-18 with a message of hope for people of all walks of life.
The online course, backed by Doncaster Council, is aimed at everyone, from those with no cash or business experience to fledgling start-ups that need guidance to keep on track.
Rebel has been to Doncaster several times before and typically attracts between 100-200 people. Some of those who attend are unemployed, on low incomes or learning English as a second language. Others attendees are already running their own businesses.
In April 2021, Rebel Business School won a Queen's Award for Promoting Opportunity for its attendees. Rebel's events are led by successful entrepreneurs who share, first-hand, their experiences of running businesses.
"Many people all across Doncaster and Yorkshire will have experienced a really difficult time in the past year, but we are here to help them to bounce back," says Simon Paine, co-founder of Rebel Business School.
"We've worked with many people, teaching them sales, marketing, budgeting and more. But the big thing everyone refers to in the feedback is confidence. They learn to rebel against the negativity that's holding them back. They learn a 'rebel mindset'."
Simon says that it is both possible and desirable to start a business right now, and that the legacy of Covid-19 should not stop anyone from doing so.
"Our message is simple. You don't need money, an expensive education or a big plan to start a business, you just need to find something you love and a bit of help.
"Now's actually the best time to be starting up. Everything has changed, the world has been shaken up and people who get moving can take advantage of the new situation," he says.
The Doncaster Rebel Business School is available free of charge to participants, through sponsorship and funding from Doncaster Council and Business Doncaster.
Whilst the event is being marketed to those living in Doncaster, anyone is welcome to attend. You can book a free place via the Rebel Business School website
About the Rebel Business SchoolRebel Business School was founded in 2010 by Alan Donegan and Simon Paine and helps people from all walks of life to start their own businesses. Its mission is to change the way entrepreneurship is taught across the world. It has educated over 11,000 people in seven different countries through free events and helped launch 805 businesses in 2020 alone.
In 2021, the company won a Queen's Award in the Promoting Opportunity category and its work has been backed by organisations including Google, Henley Business School and the Department for Work and Pensions.
The Rebel Business School is the best business advice that money can't buy - all of its events are free.
In these confusing and worrying times, local journalism is more vital than ever. Thanks to everyone who helps us ask the questions that matter by taking out a subscription or buying a paper. We stand together. Liam Hoden, editor.