Two passionate young women start glitter business during lockdown
The lockdown didn't stop a couple of ambitious women from taking a leap into the unknown and starting a brand new glitter business.
Monday, 15th March 2021, 5:00 pm
Beauticians Hannah Moore and Leah Gurnhill launched Glam Dolls just a few weeks ago.
The salon that they work named Allora Nails and Beauty is based in Harlington.
It has had to remain closed due to lockdown but that hasn't stopped them from starting something new.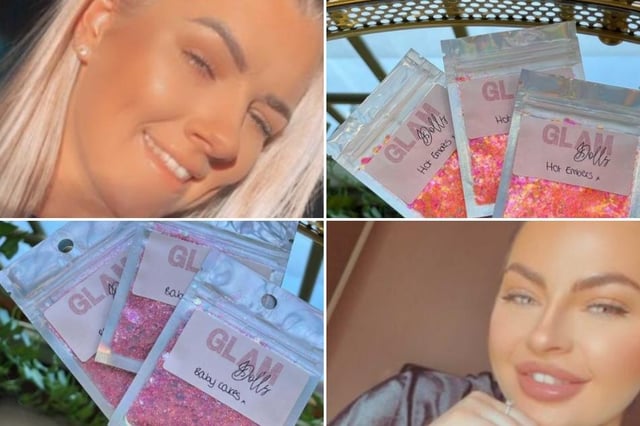 Hannah Moore and Leah Gurnhill launched Glam Dolls just a few weeks ago.
Leah, 24, from Woodlands, said: "It started with making press on nails for a few regular clients but then one day over facetime Hannah said 'wouldn't it be amazing to start our own glitter brand?'
"We thought why not just jump in and do it.
"Now is the perfect time since we have so much extra time due to the lockdown."
They sell all kinds of glitter in a variety of colours and sizes which can be used for nails, hair and makeup.
Leah said she has been surprised at the custom the business has received from the craft industry as the number of resin art and wax melt companies has grown massively over the last 12 months.
"We've blown up over night," she continued.
"It's going really, really well."
All of their glitter comes from UK based suppliers and is cruelty free.
Leah said: "We're exciting and fresh because we never sell the same glitters.
"They change with each launch.
"We just did spring and summer and our next theme will be either birthstones or fairies."
Despite so many businesses struggling this year the two young women have found a way to thrive despite all the hardships.
"We are both really positive and driven people," Leah said.
"We live and breathe our jobs and are so passionate about the business."
Leah said that the nature of the beauty world she works in has changed over the last year.
"It used to be quite competitive," she said.
"But now it's very much women empower women."There's a real sense of community - we all refer to each other as sisters."
Glam Dolls will continue once the women return to work on April 12 and they have plans to expand in the future.
In these confusing and worrying times, local journalism is more vital than ever. Thanks to everyone who helps us ask the questions that matter by taking out a subscription or buying a paper. We stand together. Liam Hoden, editor.