Blow to plans for Doncaster version of Monopoly
Plans to create a Doncaster version of the board game Monopoly have been put on hold by the manufacturers.
Friday, 24th April 2020, 5:19 pm
Updated
Tuesday, 28th April 2020, 1:34 pm
Work to develop a version of the classic game featuring locations and organisations from the borough were under development by the firm Custom Games.
Residents have already been asked about the areas that they would like to see included in the game, which was due to hit the market later this year in time for Christmas.
But now the firm has revealed it will be putting the project back because of the current coronovirus crisis.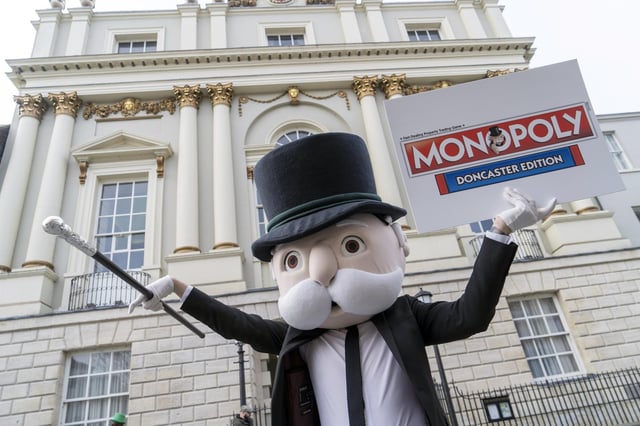 Launch of the Doncaster Edition of Monopoly. L-R Alolabi Omotola, Mr Monopoly, Lorna Reeve (Destination Manager) and Coun Bill Mordue. Picture Scott Merrylees
Nicky Fenn, Sales Support Manager for Custom Games said: "Due to the current global situation we are having to postpone the Doncaster Monopoly project."
No further details of the delays have been given.
The firm behind the game had also said they believed the cheapest space on the board, the equivalent of Old Kent Road, may be allocated to St Peters Church in Conisbrough, as it was an old building and would not be highly valued by property developers.
Suggestions had also been made for various well known local pubs and sites such as Doncaster Market and the Deaf Trust.
Residents had even made suggestions for the pieces that could be moved around the Doncaster edition, with suggestions having been made that The Mallard and Flying Scotsman steam locomotives and a Vulcan Bomber could be used.